Knox County Sheriff's Department called to Williamsfield School Board Meeting
Posted by
Jack Howser
on Wednesday, January 10th, 2018 @ 8:54 pm.
From the Edgar County Watchdogs/Illinois Leaks
BY JMKRAFT ON
WILLIAMSFIELD, IL. (ECWd) –Knox County Sheriff's Department was called to the school board meeting Tuesday, January 8, 2018. They were called by both the Williamsfield CUSD #210 Board President Chuck Ingle, and by me, after a short discussion on Ingle's violation of State law – the Open Meetings Act.
Board President Ingle called and reported that he had a couple people interrupting the school board meeting. I called and reported a crime in progress, that the school board president was committing a crime (Class C Misdemeanor) during the meeting by refusing to follow the board's adopted and established rules for public comment. For the record, we were not interrupting a meeting, but rather, attempting to stop the commission of a crime in progress.
The Issues (supporting references in this pdf):
Board President thinks he can violate Board Policy and State law by restricting comment to 2 minutes per person without that rule being established and recorded by the public body
Board President thinks he can violate the First Amendment and State Law by prohibiting mentioning of names during public comment
Meeting Agenda, included a note from the president purporting to recite Board Policy 2:230:
Per Board Policy 2:230
Individuals appearing before the board to participate in public comment must identify themselves by name when called upon and begin to deliver his or her message to the board. The customary time allotted per speaker is 2 minutes.
So we reviewed "Board Policy 2:230" and it stated:
Identify oneself and be brief. Ordinarily, comments shall be limited to 5 minutes. In unusual circumstances, and when an individual has made a request in advance to speak for a longer period of time, the individual may be allowed to speak for more than 5 minutes.
I think anyone can see, that his note in the meeting agenda IS NOT "Per Board Policy" but rather something he made up to limit public comment without proper authority.
The Open Meetings Act, Section 2.06 is what grants the "right to speak" to any person, subject only to the rules established and recorded by the public body. In this instance, the Board Policy published on its website include the rules established and recorded by this public body. Also, keep in mind any rules established must be reasonable and must enhance the ability for a person to address public officials, not restrict their ability as is the case with this school board.
Additionally, the Open Meetings Act's right to speak specifically states we have the right to address "public officials" – not merely "the Board" or only the president. If someone wants to ask a particular board member a question or call them out by name on something they don't agree with, it is the person's right to do so.
To read the rest, hit this link.
The work of the Edgar County Watchdogs is funded entirely thru donations and we
ask that you consider donating at the below link.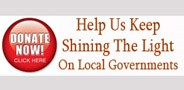 Short URL: https://www.disclosurenewsonline.com/?p=99212
Posted by
Jack Howser
on Jan 10 2018. Filed under
DISCLOSURE CONTENT!
. You can follow any responses to this entry through the
RSS 2.0
. You can leave a response or trackback to this entry