State of Illinois donating to Citizens for Rauner?
Posted by
Jack Howser
on Friday, November 3rd, 2017 @ 9:24 pm.
From our friends the Edgar County Watchdogs/Illinois Leaks
BY KIRK ALLEN ON
Illinois (ECWd) – The recent State Board of Elections D2 Quarterly Filings by the Bruce Rauner Campaign reflect some very odd information, as did previous quarterly filings.
Over the past several years, the Governor's campaign has returned a total of $51,950.00 to the State of Illinois citing "Repayment of Prohibited Contribution Citizens for Rauner, Inc." Now, most would look at that and think how great it was they caught such a contribution and actually returned the money, which is a good thing.
However, the first thing that jumped out to us was the fact all the numbers are whole numbers, much like we saw with Auditor General Frank Mautino in his reporting that has lead to his invoking his 5th amendment rights in the Campaign complaint now before the Appellate court.
The next issue was who this money was returned to…
The State of Illinois!
Searching the State Board of Elections for contributions by "State of Illinois" did not turn up any payments from the State to the Governor's Campaign. We then searched for the actual reporting of the contribution in the campaign reporting and were unable to find corresponding contributions coming in from the State of Illinois.
Who within the State of Illinois made these prohibited contributions?
Why is there no corresponding reporting of the receipt of these contributions, assuming we did not miss them in our search?
Are these actual repayments of prohibited contributions or are they actually reimbursement to the State of Illinois for the use of state property during the campaign?

If these payments are to reimburse the use of state property or expenses incurred during campaigning, could that not be an issue as it relates to the Illinois State Constitution Article VIII Section 1, which states public funds, property, and credit shall...
To read the rest, click this link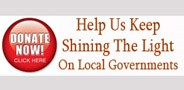 Short URL: https://www.disclosurenewsonline.com/?p=96960
Posted by
Jack Howser
on Nov 3 2017. Filed under
e-Edition Members!
. You can follow any responses to this entry through the
RSS 2.0
. You can leave a response or trackback to this entry