Fosterburg Water District – Partying Down On Super Bowl Weekend, Hotels, Expensive Food…
Posted by
Jack Howser
on Sunday, October 22nd, 2017 @ 1:41 pm.
From our friends the Edgar County Watchdogs
BY JMKRAFT ON
FOSTERBURG, IL. (ECWd) – On top of the Fosterburg Water District's unlawful delegation of their statutory authority to a nonmember of the Board of Commissioners (here), I decided to what else they were up to. Turns out, they are up to quite a few things that violate state law.
I requested and received credit card statements for the past 12 months. What was discovered in those statements is quite shocking.
Super Bowl Weekend Party Time in Missouri – labeled as "Board Retreat"
On Super Bowl weekend, the Board of Commissioners of the Fosterburg Water District decided to party down in Missouri – and charge it on the backs of water district customers.
Of course they labeled it as "Board Retreat" – which is not allowable under state law and will be discussed later in this article.
On this Super Bowl weekend, the following charges were made to the District's Credit Card (see the pdf below) in Chesterfield Missouri – less than an hour's drive to Fosterburg:
Annie Gunns: $851.99
Imo's Restaurant: $71.82
Sam's Club: $40.40
Drury Plaza Hotel: $2,044.22 in nine separate transactions
This totals to $3,008.43 for this Super Bowl party labeled as a "Board Retreat."
That is about $375.00 more than the district's reported profit for the same month!
Food for Trustee's family member's Funeral
There is absolutely no public purpose for using public funds to pay for the funeral food for the funeral of a family member of a board member – yet they did it anyway.
This is illegal – even if he paid it back. It violates the Constitution, Article VIII, Section 1.
Christmas Party
This water district spent over $900.00 on a Christmas Party it held at Bluff City Grill in Alton, Illinois.
Another Party – this one for no reason whatsoever
They spent over $490.00 for another party for no reason whatsoever.
This time they all went to the Grafton Winery and...
To read the rest, as well as view the actual credit card statements, hit this link.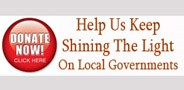 Short URL: https://www.disclosurenewsonline.com/?p=96682
Posted by
Jack Howser
on Oct 22 2017. Filed under
Breaking
,
Madison
. You can follow any responses to this entry through the
RSS 2.0
. You can leave a response or trackback to this entry