Watchdogs Receive Death Threat After Exposing NIU Employees
Posted by
Jack Howser
on Monday, October 9th, 2017 @ 2:11 pm.
From our friends the Edgar County Watchdogs/Illinois Leaks:
***********************
By jmkraft on
DEKALB, IL. (ECWd) – Starting last year, and thru to earlier this year, we had received numerous vile, racist, nasty sexual related, threatening messages to our web page – culminating in a death threat issued, complete with how it was supposed to happen.
We reported the incidents to the authorities in Edgar County earlier this year, and have not received any information from them about it.
The threats and vile comments started towards the end of the OEIG Investigation into the actions of former NIU President Baker and his senior managers/consultants. It got progressively worse the closer it came to the public release of the OEIG report, and...
***********************
Read the rest at this link....and the article we posted last week about shots being fired at the American Watchdogs location in Charleston at this link. The truth is under attack in a lot of different forms, and it appears death threats aren't any kind of exception, along with anything ranging from frivolous litigation all the way down to idiotic comments about "fake news" or any other disparaging remark that online trolls continue to make. We will, however, persevere. Please support the Edgar County Watchdogs/Illinois Leaks.
Please consider a donation: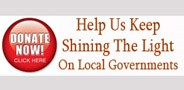 Short URL: https://www.disclosurenewsonline.com/?p=96186
Posted by
Jack Howser
on Oct 9 2017. Filed under
DISCLOSURE CONTENT!
,
Edgar
. You can follow any responses to this entry through the
RSS 2.0
. You can leave a response or trackback to this entry