Arraignment Day: Bloomington Coliseum's "Felony 5"
Posted by
Jack Howser
on Tuesday, October 3rd, 2017 @ 2:19 pm.
Here's a piece from last week regarding the ongoing court cases of the alleged official misconduct ongoing at the U.S. Cellular Coliseum in Bloomington, by our central state correspondent, Diane Benjamin, as featured at Illinois Leaks.
BLOOMINGTON, IL. (ECWd) –
By: Diane Benjamin
I was back in court today, luckily not playing lawyer this time! I attended the arraignment of the Felony 5. Cameras are now allowed inside the courtroom, so I'm sure video will be available somewhere.
I took photos:
"I was asked by the Sheriff's department to take the pictures down because they have rules! Media must be credentialed through a lady at the Pantagraph. Of course the Pantagraph doesn't consider me real media, so I was never informed of this credentialing process. A report is being written and sent to the State's Attorney for possible contempt charges!"
ECWD's response?
Contempt this:
For more, hit this link at the Watchdogs' site. There's a bit of a war brewing, as apparently the Pantagraph has been extremely hateful to Diane and the Watchdogs. We'll let you know what's happening with it and what shakes out in upcoming articles; watch us as well as the Watchdogs, and if you feel inclined, hit the button below to keep the light shining.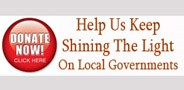 Short URL: https://www.disclosurenewsonline.com/?p=96036
Posted by
Jack Howser
on Oct 3 2017. Filed under
Breaking
,
Illinois
. You can follow any responses to this entry through the
RSS 2.0
. You can leave a response or trackback to this entry